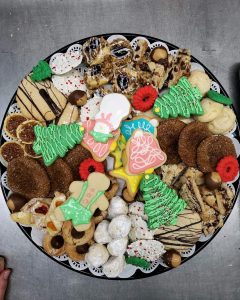 We are no longer taking online orders for cookie trays.  Please call us for availability – 330 – 877 – 8344.
Our cookies contain a delicious assortment of cookies including (but not limited to): birdsnest, peanut blossoms, sun & moon, russian tea cakes, decorated cut outs, brownies, blondies, cranberry white chip, lemon cooler, mint chocolate chip, pecan tarts, buckeyes and more.
Cookies are arranged on black plastic trays with clear domes and are available in 3 sizes.  Small tray contains about 4 dozen cookies, medium tray contains about 6 dozen cookies, and large trays contain about 8 dozen cookies.