Fall Fun
September 26th - October 31 - See links below for details
September 26 – October 31  12 noon – 7 pm daily
Fall is winding down at Maize Valley – we invite you to join us as we celebrate these last days of fall.  Crowds are much lighter the last week and as a result for Monday, October 26 – Friday, October 30, we will not be selling advance tickets.  Tickets will be sold at the gate.
Please remember our last day of fall activities is Saturday, October 31 and that tickets are NON Refundable.
Tickets are required for the fall harvest activities (except for Monday, October 26 – Friday, October 30).
If you are coming to eat and drink inside the winery/brewery/market area, you do NOT need a ticket.  
With activities for all ages, Maize Valley is the perfect destination for fun fall family outings. While the 2020 fall season at Maize Valley is undergoing several significant changes, there will still be no shortage of good old fashioned, outdoor fun.  After a spring and summer of being cooped up and not able to go anywhere, we invite you out to our wide open spaces to enjoy the beautiful fall days.
Yes, there are changes, we will be limiting the number of guests that we allow on the property at any one time.  Sanitation will be an ongoing occurance, and there will be times throughout the day where some attractions will be closed to allow for proper cleaning and sanitation.  Masks outside will not be required, as long as you can maintain at least 6 feet of social distance from other guests.  Masks are required inside buildings.
Campfires will be limited to a maximum of 10 guests.
Access to the fall activity area will require a pre-purchased admission ticket valid for a three hour time period.  Tickets are $11 per person (ages 2 and older) and will include the following:
8 acre

corn maze

Animal train ride for the younger kids

Pumpkin cannon demonstrations

Goat-a-palooza animal area

Chicken area

Tire pile

Straw bale mountain

Hop Dots color matching game

Push Carts

Pedal Trikes

"Frank" the combine

Farmagination village & the littlest farmer play area

Access to the pumpkin patch (pumpkins are extra)

Access to the gem mine (mining rough is an extra charge)
NEW this year – concessions and the beer truck will be open daily  so you can maximize your three hour ticket.
Wagon rides this year will incur an additional $5 charge per person due to Covid-19 restrictions and the necessity to maintain social distancing.
The Gem Mine will also be operational – mining "rough" starts at $ 5 per bag.
Maize Valley is committed to providing you with the safest place we can for you and your family to enjoy the fall harvest activities.  We are grateful and thankful for the courtesy, respect, and support you have shown us in the last few months.
Popular Maize Valley Fall Activities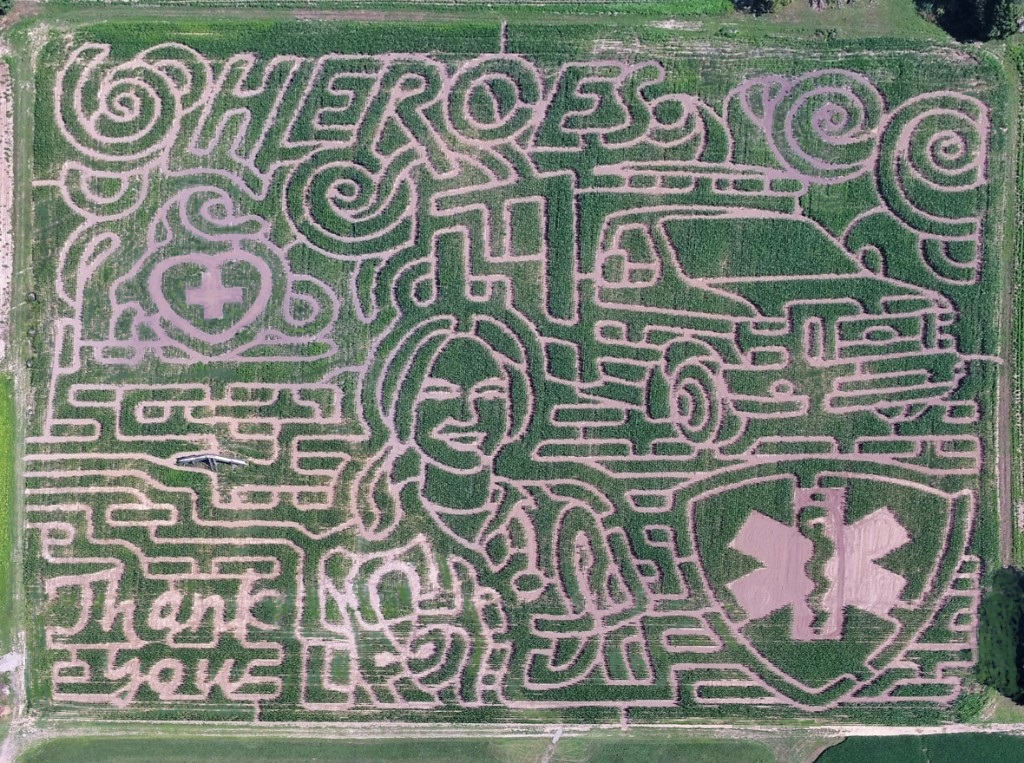 Corn Maze
Ohio's Best Corn Maze
Opens every September! Every year thousands of visitors come to Maize Valley to navigate the twisting, turning paths of our 8 acre corn maze.  Every year our corn maze has a different theme and we hide trivia questions within the…