Opens September 18 for the 2021 Fall Season
Tickets are not required for eating/drinking inside the main building.
With activities for all ages, Maize Valley is the perfect destination for fun fall family outings. We encourage you to purchase your tickets in advance if you are planning to visit the fall harvest activity area – it speeds up the admission process and helps minimize lines.  Tickets will be $15 per person for everyone over the age of 2.  Discount tickets are available on Thursdays in October ($10 per person).  Group discount of $3 per ticket are available for groups of 30 or more – group tickets must be purchased online in advance – group discount will not be given at the gate.
Fall activities will be open September 18, 19, 25, 26.  Starting Monday, October 4, the fall activities will be open Monday, Thursday, Friday, Saturday, Sunday,  from 12 noon – 7 pm.  Fall activities will be CLOSED on Tuesdays & Wednesdays.  The last day for fall harvest activities will be Saturday, October 30, 2021.
Maize Valley will continue to follow all mandated health regulations that are in place at the time of your visit.  Please follow us on Facebook for any updates and changes.
Food – We know you get hungry when you play!  Outside concessions will be available on Saturdays & Sundays.  On days that we don't have outside concessions open, you can order online from your phone and pick up in the market.  That way the kids can keep playing, while you enjoy a delicious bite to eat on one of our picnic tables.  Please do not bring any food or beverages from home.  We have plenty of great options to pick from.
Access to the fall activity area will require an admission ticket.  To minimize congestion, the number of tickets available per time slot will be limited.  We recommend you purchase your tickets in advance.
8 acre

corn maze

the theme for 2021 is "Stayin Alive"

Animal train ride for the younger kids

Wagon Ride

Duck Races

NEW – Kitchen Band Sound Garden "Nick's Notes"

Pumpkin cannon demonstrations

Pumpkin Jump Pad

NEW – Hoola Hoop Round Up

Bouncing Balls

Goat-a-palooza animal area

Chicken area

NEW – Rainbow Jump Pad for the little kids

Tire pile

Straw bale mountain

Hop Dots color matching game

Push Carts

Pedal Trikes

NEW – Finger Funnies Game

"Frank" the combine

Farmagination village & the littlest farmer play area

Access to the pumpkin patch (pumpkins are extra)

Access to the gem mine (mining rough is an extra charge)
The Gem Mine will also be operational – mining "rough" starts at $ 5 per bag.
Maize Valley is committed to providing you with the safest place we can for you and your family to enjoy the fall harvest activities.  We are grateful and thankful for the courtesy, respect, and support you have shown us in the last few months.
Popular Maize Valley Fall Activities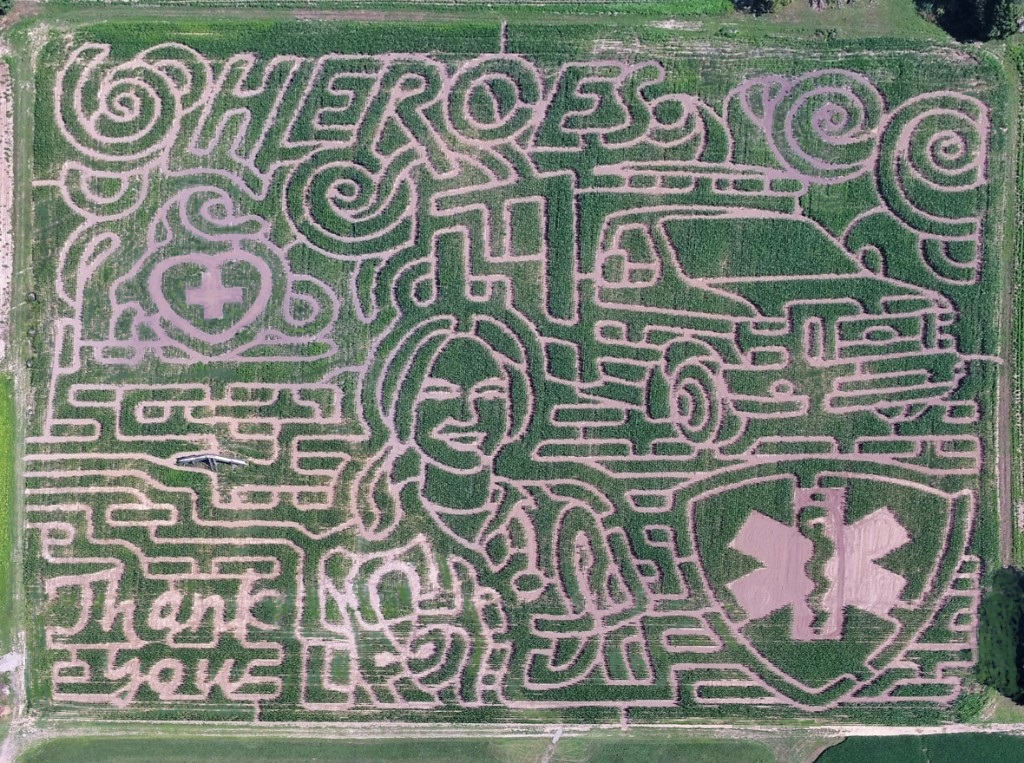 Corn Maze
Ohio's Best Corn Maze
Opens every September! Every year thousands of visitors come to Maize Valley to navigate the twisting, turning paths of our 8 acre corn maze.  Every year our corn maze has a different theme and we hide trivia questions within the…