Maize Valley, a family owned and operated business, has its roots deep in the soil of Marlboro Township near Hartville, Ohio.  The family's ancestors were the third family to settle in Marlboro Township in the early 1800's and were trappers, teachers, farmers and business owners. Through the years, farming and agriculture have served as the backbone to the family's livelihood and history in the quaint, small-town area of the state.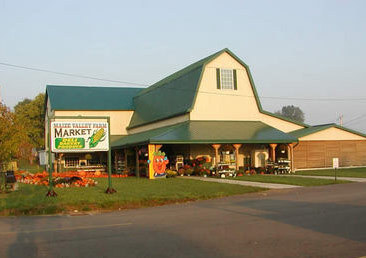 How it all began
The current farm was started by Kay & Donna Vaughan in the 1960's and has undergone many transformations through the years. Originally they were hog farmers and grain farmers with more than 3,000 acres of various crops including their well known "super-sweet" corn, soybeans and wheat – in addition to milking 130 dairy cattle. Maize Valley Farm Market was started in the mid 1990's by Kay and Donna's daughter, Michelle, and her husband, Bill, as a seasonal produce stand that also had a corn maze in the fall. By November of 2000, the family knew it was time to expand and purchased a 140 year old barn located on an adjacent property.  The barn was the former home to an assortment of cows, pigs, horses and chickens.  Underneath layers of paint and whitewash, the family discovered gorgeous hand hewn beams and original cut stone wall.
New life
Renovations commenced immediately and in six months the new market was ready to open.  This remodeled barn is a wonderful blend of rustic charm and modern convenience.  The original hand hewn beams have been cleaned and sealed to restore their natural beauty. The cut stone wall still runs the length of the building and adds an elegance that cannot be imitated.  On June 30, 2001, the new and expanded Maize Valley Farm Market opened for business with an in house bakery, sliced to order deli, home-grown produce and gourmet food items. At the same time, their fall agri-tourism enterprise started to grow and today includes an 8-acre corn maze, wagon rides to the pumpkin patch, a pumpkin cannon that will launch a pumpkin ½ mile in the air, pig races, duck races, a kids play area and so much more.  By 2005, Michelle's brother, Todd, had returned from college to join the business and had in interest in winemaking. Maize Valley wines were quickly winning medals at wine competitions across the country.
Today
Maize Valley Farm Market & Winery attracts tens of thousands of visitors each year. The family currently farms around 700 acres, including crops such as asparagus, tomatoes, pumpkins and zucchini, as well as about 10 acres of vineyard production. History is always in the making. Maize Valley continues to grow and evolve, bringing new and exciting products and experiences to their valued customers.